About Us
Chef/Owner, John Ingalls, continues the Palmers tradition of 33+ years.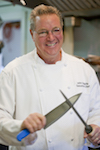 Palmers started as a small upscale eatery in Swampscott, Massachusetts, in 1988 and quickly became a North Shore Favorite, receiving recognition and awards from the Boston Globe, Zagat Reviews, and local publications. In 1995 he moved the restaurant to downtown Andover, serving Lunch and Dinner daily throughout the three dining rooms and large tavern.
Chef Ingalls, alumnus of The Culinary Institute of America and some of Boston's finest establishments, combines his years of experience with the talents of
Tina Marzolini
, Joe Howard and a great staff (which is more like family). They are passionate about creative cooking using local, wild-harvested seafood, fresh produce from local farms (in season), all natural poultry and pork, and top-grade cuts of beef. This, combined with attentive service from Palmers hospitality team, translates to a pleasing menu and a memorable dining experience.
Palmers has a function coordinator on staff to assist with reserving one or more dining rooms to host your next party or gathering. The Tavern is a favorite meeting place, serving a full menu, fine wines, cocktails, beers-on-tap, and features live bands every weekend.
We invite you to join our mailing list to keep informed about upcoming events, and we value your feedback on the comment form of our website palmers-restaurant.com.